Visual Basic 2013 was introduced in the year 2013. As usual, it is included in the Visual Studio 2013 IDE. Visual Basic 2013 is similar to Visual Basic 2012 but it has added some innovative features for greater developer productivity. Start learning Visual Basic 2013 programming by following our lessons below:
---
To learn more about Visual Basic 2013, you should check out our Made Easy Series book, Visual Basic 2013 Made Easy.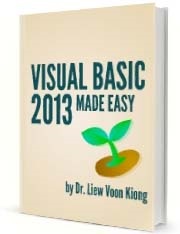 ISBN-13: 978-1467975193
Visual Basic 2013 Made Easy is written by Dr. Liew, the webmaster of our online Visual Basic Tutorial, vbtutor.net. This book is a complete guide to mastering Visual Basic 2013, from beginner to intermediate programmers.  This book has been written to complement our free online Visual Basic 2013 tutorial with much more content. It is also an excellent reference text for high school or college-level computer science courses.
Reading this book will allow you to:
Understand the basic concepts of Visual Basic 2013 programming
Create your own Visual Basic 2013 applications from scratch
Get inspiration from a variety of interesting sample programs
Modify the code samples easily to suit your needs
Learn how to package and distribute your applications