Visual Basic 2010 Tutorial
---
Visual Basic is always evolving, from the earlier versions of object based event driven Visual Basic which ended with the popular Visual Basic 6 to fully object oriented VB.Net versions. VB.Net started with Visual Basic.NET, then evolved through Visual Basic 2005, Visual Basic 2008 to the Visual Basic 2010, Visual Basic 2012, Visual Basic 2013, Visual Basic 2015 and the latest Visual Basic 2017
This tutorial cater specially for learning Visual Basic 2010 programming. Although Microsoft has released the latest Visual basic 2017 that is bundled in Visual Studio 2017, you can still download the free Visual Studio 2010 Express from Older versions of Visual Studio
In addition, we also run tutorials on Excel VBA, JavaScript, JQuery and Blockchain.
Visual Basic 2010 Made Easy
---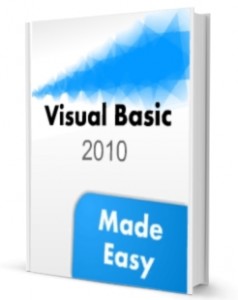 ISBN-13: 978-1467975193
Visual Basic 2010 Made Easy is written by Dr. Liew, the webmaster of our popular online Visual Basic Tutorial, vbtutor.net. This book is a complete guide to mastering Visual Basic 2010, from beginner to intermediate programmers. This book has been written to complement our free online Visual Basic 2010 tutorial with much more content. It is also an excellent reference text for high school or college-level computer science courses.
Reading this book will allow you to:
Understand the basic concepts of Visual Basic 2010 programming
Create your own Visual Basic 2010 applications from scratch
Get inspiration from a variety of interesting sample programs
Modify the code samples easily to suit your needs
Learn how to package and distribute your applications
About Us
---
The Tutor and webmaster of this online tutorial, Dr.Liew Voon Kiong , holds a Bachelor Degree in Mathematics, a Master Degree in Management and a Doctoral Degree in Business Administration. He obtained the DBA degree from the University of South Australia.
He has been involved in programming for more than years. He created the popular online Visual Basic Tutorial in 1996 and since then the web site has attracted millions of visitors .It is the top-ranked Visual Basic tutorial website in many search engines including Google. He has also written a few Visual Basic related books. One of the books, Visual Basic 6 Made Easy was published by Creativespace.com, an Amazon.com publisher.